How to sign up for eRefund
All you need to do is to log on to MyBARC and select the "Sign up" button found inside the "Sign up for direct deposit refunds!" box.
What do I need to sign up?
To enroll you need two things:
Your bank routing number
Your account number
By far the simplest way to get both numbers is to look on a paper check.
Please note that your account number is NOT the number on your Debit Card!
What do I do if I don't have a paper check!?
We know that many students to not have paper checks with them. If you turn your debit card over there will be a toll-free phone number on the back of that card. Call that number and tell them you are signing up for Direct Deposit. They will tell you the proper Routing Number and your Account Number.
Bank of America uses different Routing Numbers for their E-Check transactions. DO NOT use the routing number shown on the bottom of a BofA check!
For information about locating the correct routing number for your account, please visit https://www.bankofamerica.com/deposits/routing-number-faqs/. Bank of America recommends signing into Online Banking to find your correct routing number, or see the section, "Do you have a list of Routing Numbers I can review" for a locator by State: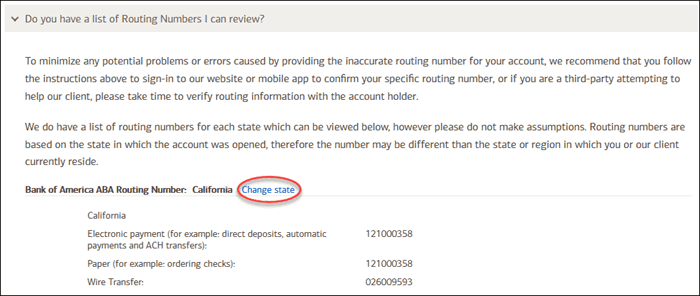 How to sign up
Sign on to https://mybarc.ucsb.edu
Log in using the same username and password you use for your uMail email account.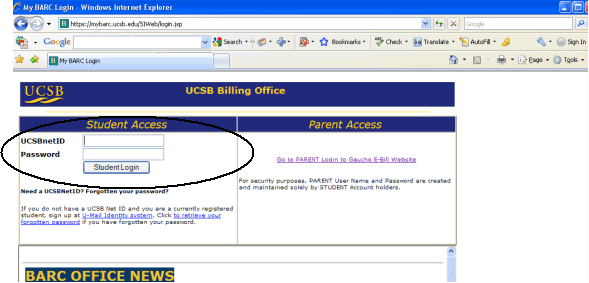 Select the link to "Gaucho E-Bill" at the top right corner of the screen that loads.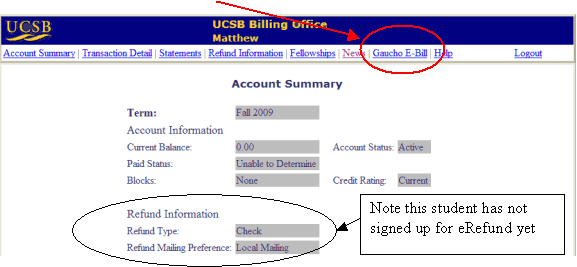 Select the "Sign up" button on the Overview page.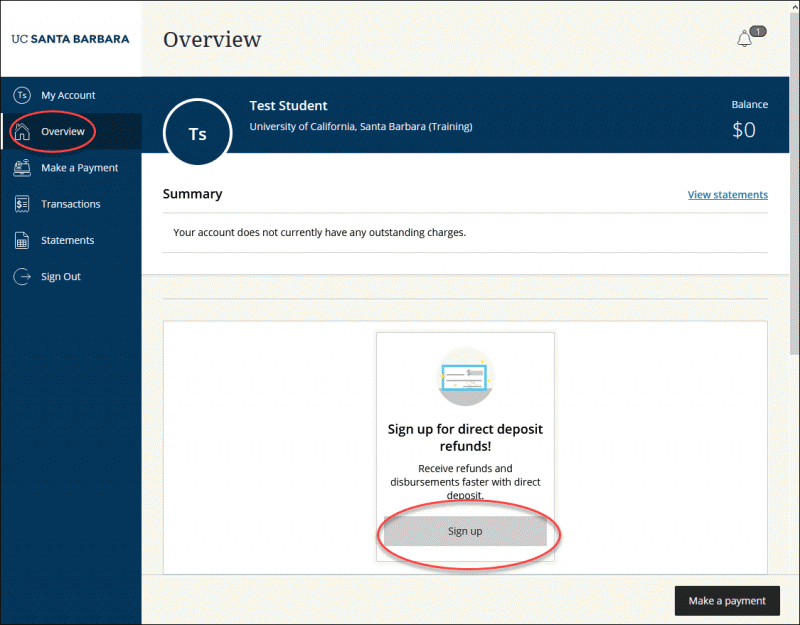 On the "Direct deposit refunds" screen that pops up, read the terms and conditions. Select the "I agree to these terms" checkbox, and click the "Continue" button.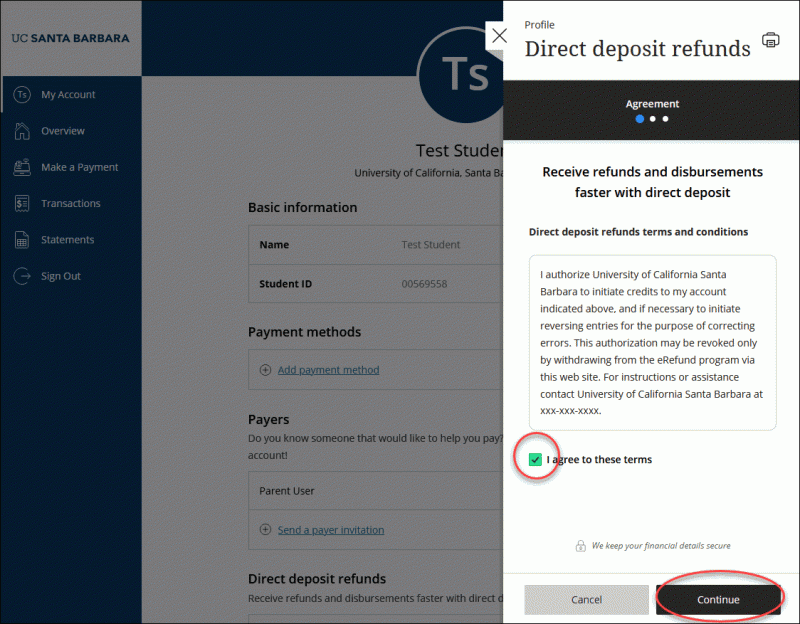 Complete the following steps: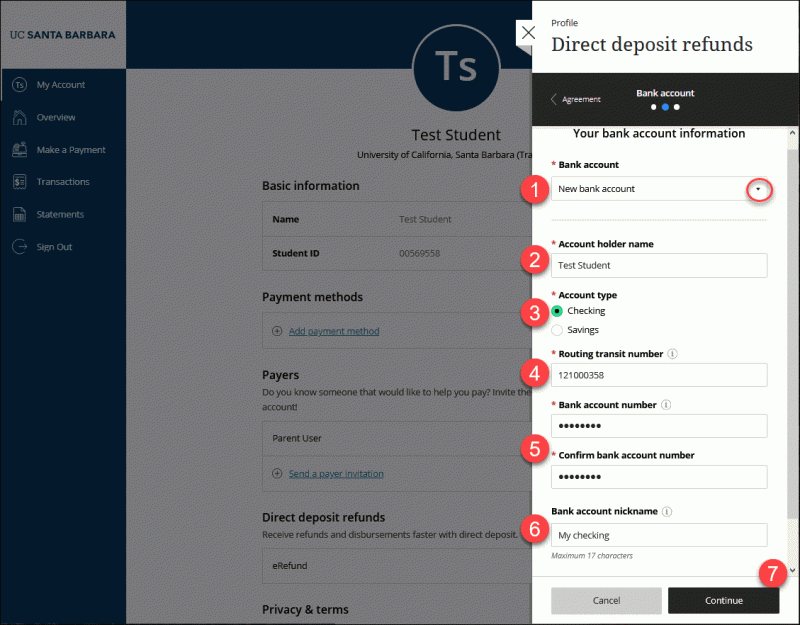 Use the "Bank account" dropdown to select "New bank account" or choose one that you have previously saved to your account.
Enter the name of the account holder.
Choose the account type (checking or savings).
Enter the routing transit number of the account you want to enroll in eRefunds. If you need an example of routing and account number locations on a check, click the "i" symbol: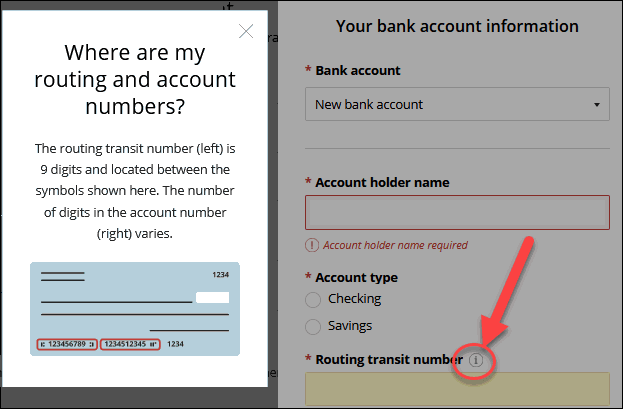 Here are some additional examples of Routing Numbers and Account Numbers: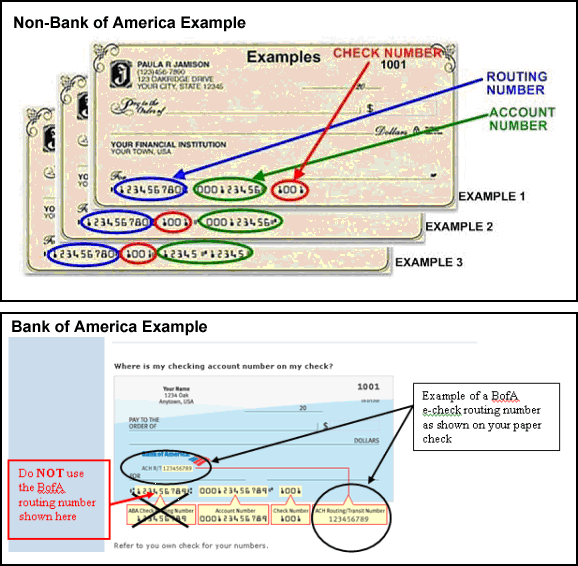 5. Enter your account number, and confirm it in the field below.
6. Give the account a nickname for easy recall later (maximum 17 characters).
7. Click the Continue button to go to the next step.
Review your information. If anything needs to be modified, click the "Change" link. When ready, click the "Complete" button and you are enrolled!