The approach taken when configuring Concur to the UCSB Chart of Accounts was to map Expense Types to specific Object Codes. For example, if a California In-State traveler selects the Lodging expense type the resulting account string that posts to the General Ledger will include Object Code 2000 – Travel – California. This mapping of the Expense Types to Object Codes depends upon the Report Type selected in the Report Header. The following is a screen capture of the Report Types available in Concur along with the Object Code Mapping.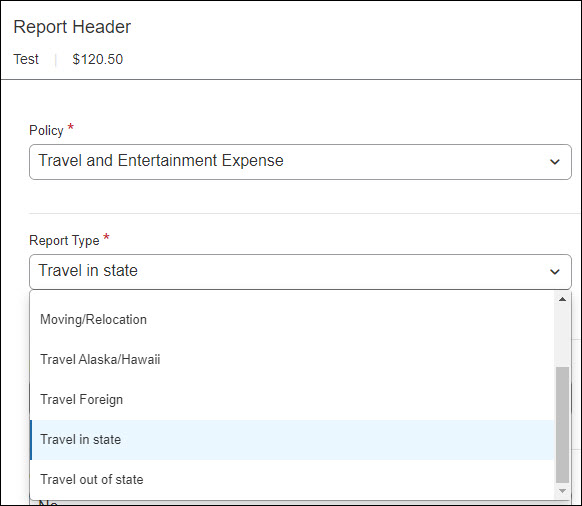 Object Code Mapping
Travel Alaska/Hawaii – Object Code 2900
Travel Foreign – Object Code 2902
Travel in state – Object Code 2000
Travel out of state – Object Code 2900
View a complete listing of Object Codes
Background
This design decision was based on an understanding that most travel situations fit within one of these four Report Types. While it is understood that there may be instances where there could be a combination of two or more types of travel on a single trip, there should always be a Primary Report Type that best describes the trip.
For example, if a person is traveling to Colorado for a conference is required to incur certain incidental expenditures in California on their travel to/from Colorado, the appropriate Report Type selected should be Travel Out of State. In this case all the expense types included on this report would present with an Object Code 2900 – Travel – Domestic Out of State.
In cases where a secondary type of travel has more than incidental expenditures, BFS recommends that the trip be split between two reports in Concur. By splitting the trip into two Concur reports, the object codes posted to the ledger will more closely represent the travel type.
For example, if a person books a travel itinerary that includes a stop in Wisconsin to attend a conference, followed by travel to CERN for research purposes without a return trip to California, BFS recommends that the expenditures be split between two reports as follows:
Travel Out of State
Seminar/Conference Registration – Madison, Wisconsin
Lodging – Madison, Wisconsin
Travel Foreign
Airfare
Travel Agent Booking or Service Fees
Travel – Foreign Daily Meal Per Diem
All that being said, each UCSB department is responsible for properly coding transactions. If they believe that domestic and international charges can all be reported on a single Concur report, then they need to know that the travel object code will be applied consistently across all transactions and that object code is determined by the Report Type selected in the Concur Report Header.